Pasadena Business Formation Attorney
Starting a new business is an exciting venture that can mean financial and employment independence. The laws and regulations that govern businesses in California are designed to protect the interests of both the company and its employees. Beginning your business on a strong foundation can help you keep your business out of the red and into the black.
At Robert G. Petrovich, Attorney at Law, we make it our priority to help your business be successful. Our skilled attorneys are experienced in multiple areas of business law, which allows us to start your business off on the right foot to avoid larger obstacles later. Whether you are currently a business owner starting a new venture or this is your first start-up, our experienced attorneys have over 35 years of experience ready to go to work with you.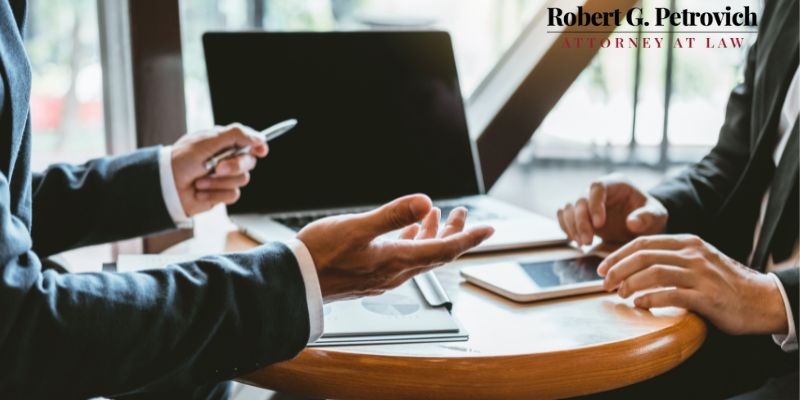 Business Structure
One of the first decisions you will make in your journey is deciding which type of business structure will fit your needs. There are 12 types of structures in Pasadena, California:
Sole proprietorship
Partnership
Corporation
Limited liability company
Professional corporations
Family limited partnerships
Limited liability partnership
Limited partnerships
Merger and acquisitions
Joint ventures
Business succession
Deciding on the structure that is right for you means laying the groundwork for the future of your business. Whichever model suits you will have future legal, financial, and tax implications. When deciding which is right for you, consider each of the following factors that could influence your decision:
Control. This is the level of control you want in your business. This is an important decision, particularly if there are multiple owners. Under a sole proprietorship, you would have the fullest control available and be able to dictate the terms of how your business entity will run. By comparison, if your company is structured as a corporation, you will have the influence of shareholders and a board of directors who will decide how day-to-day operations look.
Liability. As a business owner, you take on the legal responsibilities for the business and any liabilities associated with it. These include debts, obligations, and physical liabilities the business must account for. In some circumstances, you can be held personally liable for infractions or accidents. Some business structures take some of the personal liability off of your shoulders. Under a sole proprietorship, for example, you would take on the full liabilities of the business. That means your personal assets could be used to satisfy any debts owed by the business. You also could face civil claims. A limited partnership reduces the personal liability of the partners to only the resources they have invested in the business.
Taxes. How your business is structured also has implications on how the taxes for your business are to be paid. As an example, if your business is a sole proprietorship, partnership, limited liability company, or an S corporation, the taxes owed would be paid through the owners' personal taxes and not separately through the business. When the business is treated as a separate entity, then the taxes fall to the corporate rate.
Administration. The level of administration generally increases as the complexities involved in your business entity rise. In sole proprietorships and partnerships, the paperwork involved with the administration is generally low. Corporations, on the other hand, face strict guidelines for their reporting obligations both in the initial start-up and the day-to-day operations.
How a Business Attorney Can Help
When starting your business, attorneys can help in multiple ways:
Deciding on the right business structure. Because your business structure has so many implications, it is more than just picking the one that sounds most appealing. A business attorney can help you weigh the pros and cons of each option and discuss how your vision fits with each type.
Providing industry advice. Each industry operates differently and has to meet different regulatory obligations. Utilizing a business lawyer will help you understand how your business will be impacted by industry-specific standards.
Drafting, negotiating, and overseeing legal documents. You will have many documents that you need to create during the initial start-up of your business. This includes articles of incorporation, business registration forms, the registering of intellectual property, and many more. Errors in these documents can cause delays for your future business or could find you starting the process over. Attorneys can help ensure these are filed correctly and that any business contracts you generate during the set-up of your business are handled correctly.
Breaking down tax obligations. Everyone pays taxes, and businesses have their share. Without a proper understanding of tax laws, you could face large liabilities later on. Bringing a business attorney on board, who will often connect with an accountant, can dramatically improve your understanding of tax laws that impact your business.
Understanding employment law. If your business will have employees, an attorney is vital to setting up your business to support them and avoid legal trouble in the future. California has many laws to protect employees because they are valuable assets in the economy. Understanding how to properly set up employment contracts and onboarding material can keep you out of court later.
Business Lawyers FAQs
Q: How Much Do Business Lawyers Cost?
A: The circumstances for each client will vary, and that will influence the costs associated with your business formation. The size of your business is also a major factor in those costs. For small businesses, attorney fees may be around $150 per hour. For larger corporations, costs could exceed $1,000 per hour.
Q: How Can a Lawyer Help in Starting a Business?
A: Business attorneys help advise clients on the complexities of starting a business. This includes starting a business and determining which type of entity the business should form under. Attorneys can also help to oversee and complete the legal paperwork required for forming your business.
Q: What Is the Purpose of a Business Attorney?
A: A business lawyer offers legal advice and assistance to business owners on the many facets of starting and running a business. These include corporate taxes, business transactions, intellectual property, and employment law. A business attorney helps to ensure the company follows legal guidelines to avoid litigation in the future.
Pasadena, CA Business Formation Attorney
If you are looking to start a new business, find experienced legal help. At Robert G. Petrovich, Attorney at Law, our clients our top priority. We know the legal ramifications you face if your business does not have a strong foundation. Our team can help answer all your questions and bring the dream of owning your own business to life. Contact our office today.