Pasadena Power of Attorney Lawyer
A power of attorney in California allows you to have another person make decisions on behalf of you, including legal decisions and financial management. In these scenarios, the person who authorizes the power of attorney is called the principal, whereas the agent is the one who makes decisions on behalf of the principal. The decisions made by the agent can be life-altering and crucial, which is why a principal should appoint someone they trust.
A power of attorney can be a complex legal matter to organize and authorize. The team at Robert G. Petrovich, Attorney at Law, understands how significant this decision can be. We work with clients in Pasadena, California, to ensure that their power of attorney matters are dealt with diligently and smoothly.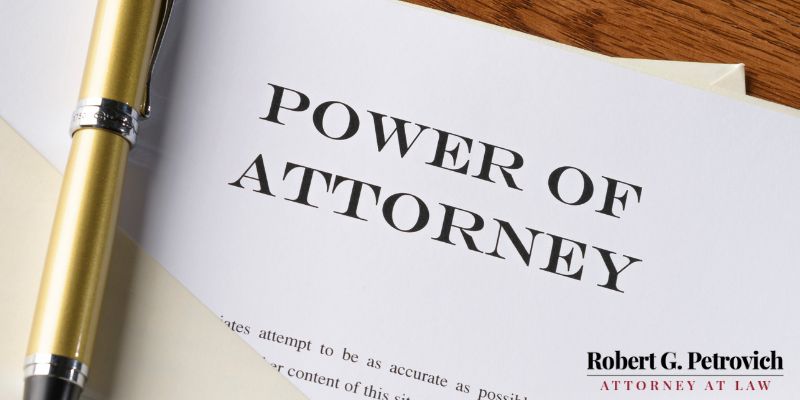 The Different Types of Powers of Attorney
In California, there are four main types of power of attorney arrangements that individuals choose to seek.
General
The most common form of power of attorney is general. In this form, the agent can make nearly every decision on behalf of the principal. For example, if there are healthcare matters to address, the agent has control over what happens to the principal. When the principal cannot make decisions on their own, the general power of attorney ends.
Durable
A durable power of attorney begins when the principal becomes incapacitated. If you create this type of arrangement, the agent can continue making decisions on behalf of the principal after they become incapacitated, whereas this wouldn't occur in a general situation.
Limited
As the name may suggest, a limited power of attorney lets someone else act on your behalf during one situation. For example, if a large sales transaction needs to be completed through a signing, a principal can give an agent the power to let them sign for them.
Springing Durable
Finally, a springing durable power of attorney becomes active as soon as the principal is incapacitated. The difference between this and a durable power of attorney is that a signature is not required for the agent to begin making life-changing decisions.
No matter which type of power of attorney you sign up for, the principal, agent, and all other relevant parties must be made aware of what rights everyone has. In some cases, a court must decide if a power of attorney agreement has taken effect, which is a process that takes time to determine. If a principal allows their agent to sign documents, they may want to contact an attorney first to review them. In fact, all power of attorney cases become more concise when you have legal representation.
Why Seek a Power of Attorney?
When someone chooses to go through with a power of attorney, they're most likely doing it because of their age, illness, disability, or other similar reasons. For example, if someone is struggling to manage their finances properly due to their old age, they may choose an agent to make decisions for them. However, agents and other loved ones may still not know what your preferences are after setting up this agreement, so some individuals have this set up early.
This legal matter takes a significant amount of time and money to set up, as powers of attorney, along with other estate planning matters, require carefulness and attention to detail to make them work as intended. You may have to pay roughly $250 to $500 in fees to organize this, as well as an additional fee to have your document notarized. While a notary isn't required in California, you would need to have two witnesses when signing the document if you choose not to have a notary.
Is a Lawyer Required?
While having a lawyer to help you with power of attorney matters isn't required, they can help streamline the entire process.
To actually set up a power of attorney requires time, and the principal needs to ensure that they fully understand what their agent can do under California law. By speaking with a lawyer before signing anything, they can ensure that they're choosing the right person and keeping their rights protected.
Many Pasadena residents believe that a power of attorney only makes a difference for older people, but this isn't always the case. If you become involved in a serious accident, and end up in a coma, having a power of attorney agreement made beforehand allows your agent to act on your behalf, as you won't be able to do so.
Similarly, if a principal struggles to make coherent statements, an agent may abuse their power and take advantage of the principal. To hold the agent accountable, a lawyer can be brought in to defend the principal and protect their rights.
Should My Document Be Notarized?
You don't have to have your document notarized when submitting a power of attorney arrangement. However, you'll need to have two witnesses sign the document instead.
Both types of signatures are valid, as a witness signature certifies that the witness has no connection to the people or their arrangement, while notarized signatures are done by private individuals. While it may be easier to have your agreement notarized, as it only requires one signature, you can choose to have two witnesses sign it if it's easier for your case.
Power of Attorney Lawyer in Pasadena
Whether you're concerned about your agent abusing their power or about which form of power of attorney is right for your situation, we can help.
By contacting Robert G. Petrovich, Attorney at Law, you can speak with an experienced estate planning lawyer about your situation and ensure that your legal matters are addressed diligently. Transferring your decision-making to another party is a critical choice that cannot be made lightly. Principals need to be clear on what their agent can do, and agents cannot act outside their specific guidelines. No matter if you're planning to set up an arrangement, or you have concerns over your current one, it's vital to seek legal representation before proceeding.
If you live in or near Pasadena, California, and need assistance with a power of attorney, we can help. Contact us today to learn more.